Evergreen real estate
is bustling. The area has become a major selling point for buyers due to the spacious homes, gorgeous views, and growing number of outdoor attractions. There are plenty of outdoor activities to keep you busy this summer in Evergreen, CO, to ensure you enjoy as much of the season as possible.
Enjoy the outdoors in Evergreen
Spend the day at Evergreen Lake and Trail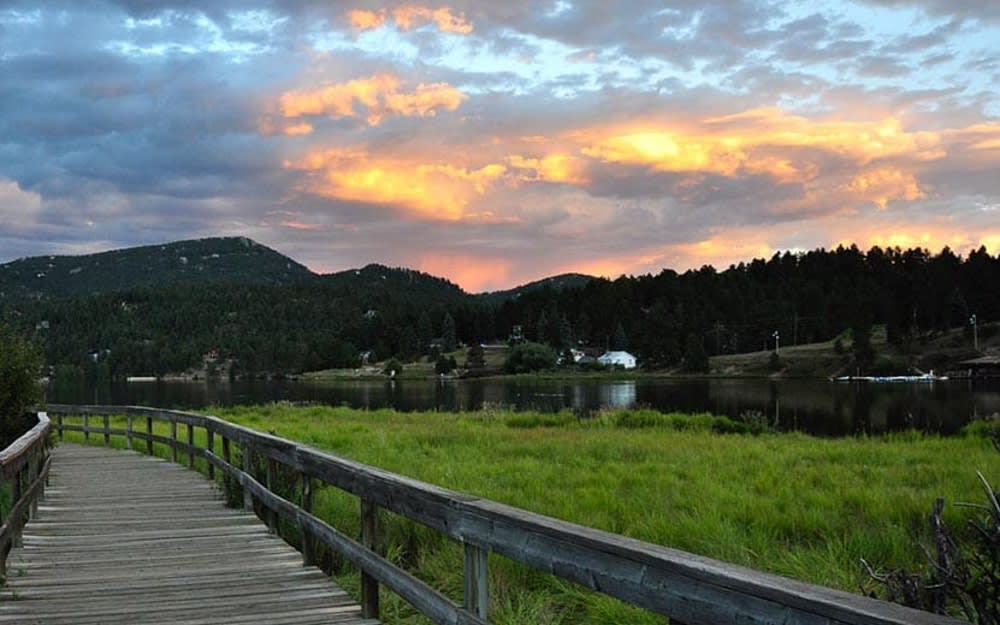 Photo Courtesy of Day Hikes Near Denver
Evergreen Lake and Trail
spans 55 acres. You could easily spend an entire day exploring the foliage and scenery preserved here. The Evergreen Nature Center gives you a look at some of the historical information on the area, as well as an inside scoop on the wildlife that lives nearby. Hike the trail that stretches more than a mile or use the designated site for fishing. Just be sure you have your Colorado fishing license so it's legal.
Although ice skating is the main pull during the snowy season (and ice hockey), boating is the biggest draw come summertime. Rent a boat from the boathouse, or bring your own paddleboards. Weekends are the designated boating times during May, but full-time hours ramp back up at the end of the month and last through October.
Explore Maxwell Falls
Maxwell Falls
is one of the best hiking spots in Evergreen. Take in all the beauty around you as you hike the trails, but be sure to do so safely. The waterfall is approximately a half-mile from the upper parking lot along the upper trail. Though you'll be surrounded by forest as you make your way to the falls, you'll find a large canyon where the water descends.
Start at the lower parking lot if you want to take the longest trail. It spans more than 4 miles and takes you 1,100 feet up if you make it all the way. Make sure to stay along the trails, as Maxwell Falls is home to a plethora of dangerous wildlife. You may spot deer, elk, bears, snakes, and other creatures. You're encouraged to be quiet on the trails and explore with a watchful eye.
Drive up to Mount Evans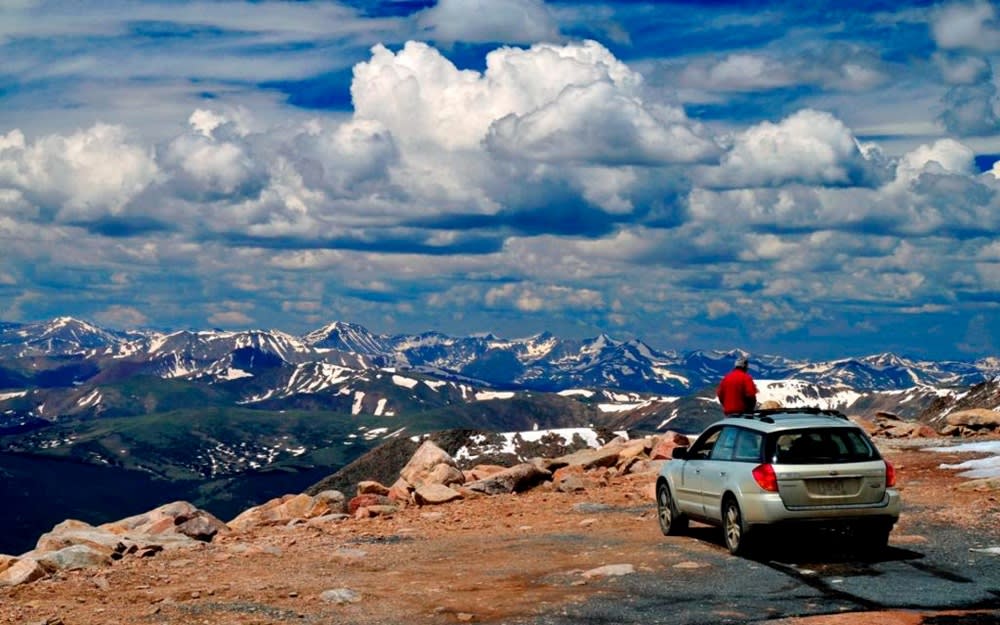 Mount Evans
reaches 14,130 feet. This 49-mile course can be driven for a fee. It's "the highest paved road in North America" and allows you to see expansive scenery that stretches for miles. You may even glimpse the bighorn sheep and mountain goats that call Mount Evans home. You're encouraged to begin the trip from nearby Idaho Springs and make your way along the highway and back to Bergen Park to see the entire 49 miles. You can simply enjoy the drive or opt to purchase a pass and stop at one of the sights along the way, such as the Mount Goliath Natural Area or Summit Lake.
Enjoy the EPRD Summer Concert Series
The Evergreen Park & Recreation District's
Summer Concert Series
also takes place at the Evergreen Lake House. Several annual dates are set for this series, where local favorites come to play. You'll sometimes get a surprise with a national act. There is typically at least one concert in June, one in July, and one in August, though additional dates may be added. Bar service is available, as are various food trucks, to enjoy a picnic while you listen to some great music. You can even bring your own food and drinks if nothing is alcoholic.
The concerts start around 4:30 p.m. with a couple of opening acts. The main headliner goes on stage around 6:30 p.m. You can check the website to see which shows are performing on each of the available dates to determine which night might entice you more or enjoy them all.
Fish at Buchanan Ponds
The
Buchanan Park Rec Center
has its own ponds available for daytime fishing. This is a catch-and-release only option. You don't need a fishing license to catch anything here, but you do need to visit the Rec Center first and pay for a pass to use the ponds. You'll get a wristband verifying that you are there fishing with permission. Only 10 permits are generally sold each day, so head there early to get your spot. The ponds can be fished year-round except when the weather does not permit it, or the ponds are frozen over.
Visit Bear Mountain
Bear Mountain
is located right within Evergreen, and some
homes on Sunset Lane
overlook the gorgeous views it offers. There isn't an official trail here, but you can explore the outer surroundings nonetheless. Make sure to have your GPS turned on and a compass handy since there aren't any trails to follow. Mineral Creek runs through part of this area.
Go camping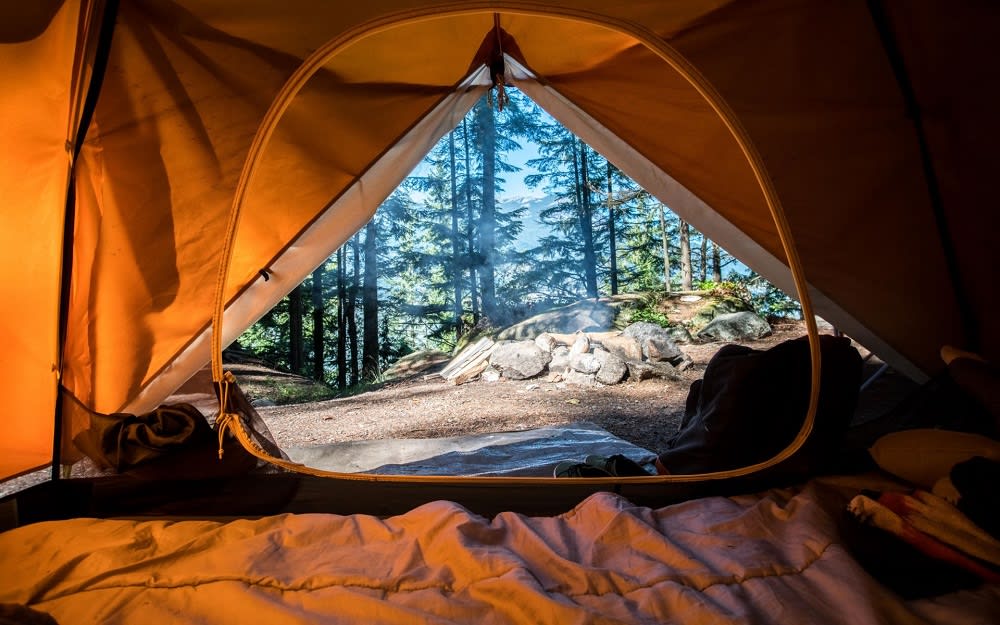 Camp Rock Campground
in Evergreen offers rustic sites in the middle of the wilderness, so you'll truly get a feel for the outdoors here. Explore your surroundings. Set up a hammock and relax. Or make your way to the Camp Rock trailhead to explore Beaver Meadows Trails or Beartrack Lakes Trail. Dogs are permitted on the trails, but they must be leashed. Hiking and fishing are the two most common activities seen at this campground and nearby.
Try the Evergreen Trail Race Series
Race through the scenic terrain in the
Evergreen Trail Race Series
that happens every summer. Three unique races make up the series: a half-marathon to Bergen Peak, a 5 and 10K along Elk Meadow Trail, and a 20K through Staunton State Park. Arrive at 7 a.m. to register if you haven't done so in advance, and get your race on by 8. If you don't feel like participating, you can still come for an early morning activity this summer. Watch the runners make their way through the designated courses and pick a place to cheer them on.
Go golfing
The
Evergreen Golf Course
is also a popular attraction in town. Spend a few hours swinging your clubs at this 18-hole course. It spans more than 7,000 feet along tree-lined fairways and rolling hills. You may even see some elk or other wildlife passing through while you play. There is also a restaurant on site called Keys on the Green. You'll be permitted inside based on your tee time.
Visit the parks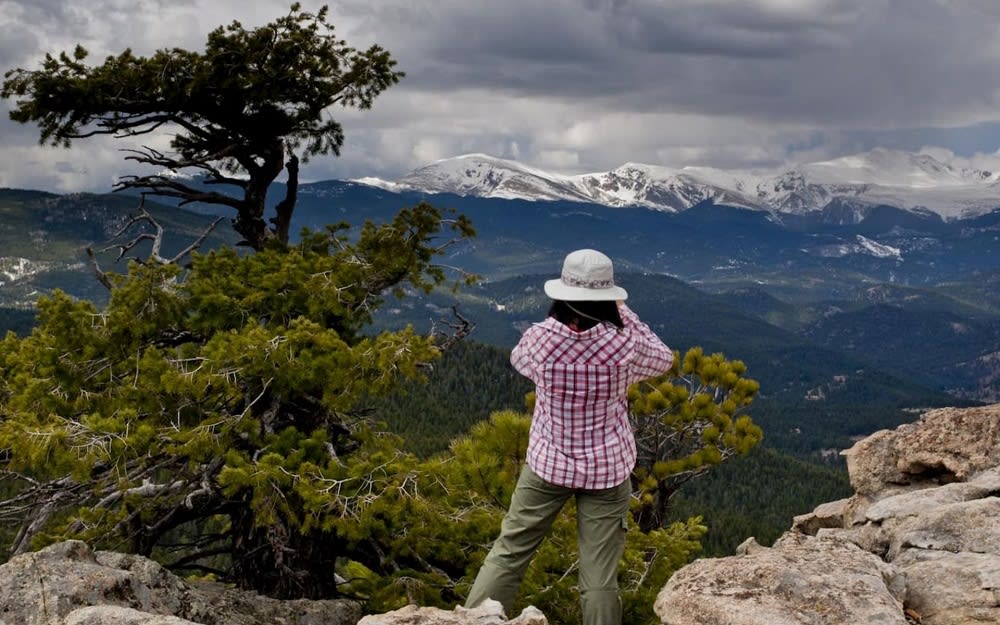 Photo Courtesy of Alderfer-Three Sisters Park
An easy way to get outdoors in Evergreen this summer is to visit the parks in the area. They all offer scenic views worth exploring, even if all you do is casually stroll along the provided trails. Alderfer-Three Sisters Park is a great option if you want to mountain bike or hike. You'll see lots of wildlife at Club Creek Park. Dedisse Park and Elk Meadow Park also offer terrific trails to try.
Join a sports team
Plenty of adult sports programs are offered in Evergreen. Choose the sport you're interested in and sign up to play. The summer options that can get you outdoors include softball and pickleball. Other choices, such as basketball, tennis, and volleyball, are held at various times and often take place inside the Rec Center.
Try an adventure with Evergreen Wilderness Guides
Another excellent way to get outdoors for a fun adventure is with the help of a guide.
Evergreen Wilderness Guides
specializes in outdoor activities such as rock climbing, hiking, biking, and rappelling. You can take courses in one or more of these activities to gain experience and learn how to handle yourself during future personal excursions.
You can take numerous courses and trips with this company for a unique experience, such as:
A mountain bike tour

Staunton State Park day tours

Learning backcountry skills

Practicing lost hiker scenarios

Intro to Sport Climbing

Self-rescue with anchor skills

Three Sisters Traverse

Learning fire intensive skills

Learning advanced survival skills

Rappelling

Advanced rappelling

Intro to Traditional Climbing

Personal guided climbing

Climbing a flatiron
Make your way to Denver
Denver is the largest city in Colorado. It's also just a 45-minute drive from Evergreen. If you're finding yourself in need of an entirely new adventure outside of town, make your way to Denver to explore its vast expanse of mountain ranges and terrain. You may not want to live in such a populous city, but it's still an amazing area to explore.
The Red Rocks Amphitheatre offers one of the best hiking experiences in the city. This geological phenomenon makes for the perfect concert venue with its own unique acoustics. The Denver Zoo, Golden Gate Canyon State Park, Denver Botanic Gardens, Dinosaur Ridge, and Elitch Gardens Theme Park are just a few of the big city's outdoor offerings.
Ready to move to Evergreen?
Evergreen lives up to its name. With plenty to see and do in this green, luscious, outdoor-friendly town, it's no wonder people are clamoring to call it home. Contact
Leslie Howard
for more information if you're interested in learning about Evergreen, CO, homes for sale. Leslie is a consummate people person who loves to put her experience to use helping others find their dream homes.